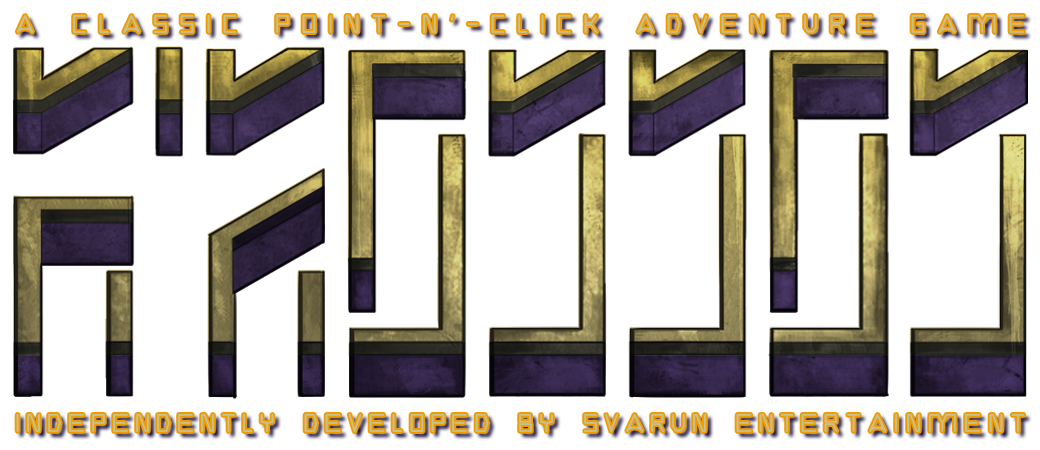 K'NOSSOS
A downloadable game for Windows
K'NOSSOS is a cold surreal adventure game about a man traveling the unknown reaches of the cosmos, and the things he uncovers on his journey. Gameplay is reminiscent of the point-n'-click adventure game classics such as "The Dig" or "Chronomaster", as well as the more recent titles such as "Primordia". The game puts equal emphasis on characterization, atmosphere and storytelling on the one hand, and problem solving and challenging puzzles on the other.

K'NOSSOS plays like most of the classic titles in the genre. PC, viewed from 3rd person, traverses the locations presented in side-view. Using a classic third person interface, the player is able to interact with the world through a player character (PC) avatar. Left mouse click is used for moving and interactions, and the Right mouse click is used for examining objects further.

K'NOSSOS features:

• classic point-n'-click interface
• abstract 2D expressionist style reminiscent of the art of Wassily Kandinsky
• intricate dark sci fi storyline
• non-linear gameplay
• cross-genre experimental soundtrack
K'NOSSOS is developed by Svarun Entertainment in the WME Engine, with PC version being the main objective of the team at this point.
Install instructions
Download the installation package and follow the on-screen instructions.

Comments
Log in with itch.io to leave a comment.
Wow, very singular art style and cool sci-fi. Great work ! Really looking forward for the full experience !
Thank you very much, I'm glad you like it ;) We're over at Kickstarter at the moment, in case you'd like to reserve your cheap copy of the game: http://kck.st/2xYK85Q
We'll do our best to keep the current level of quality throughout the game, if not make it better :)

Got to play too. Eerie atmosphere. :)
If you found it spoopy, then it's right in line with the current holidays :D Precisely what we've intended... I finally got back home, now I get to watch you play - yay!
Just me
Just my silly thoughts :)
I loved this little taster. Everything looks so good, and the puzzles are awesome (even though the very first one had me Googling haha), and the whole thing has me intrigued and wanting more!
I certainly hope you hit that funding target because I wanna play the whole darn thing =) keep up the great work, got my fingers and toes crossed for you!
Thank you so very, very, very much my man! I know about that puzzle, goddamnit, I felt so clever when I wrote it but there were some complaints and we'll certainly do something with that, I promise :D Funding is going along nicely, I hope it goes on like that until the end to our mutual joy!
Hello there guys! We are very excited that K'NOSSOS just got 25% funded on Kickstarter! Help us by backing our project and make this labor of love a reality: http://kck.st/2xYK85Q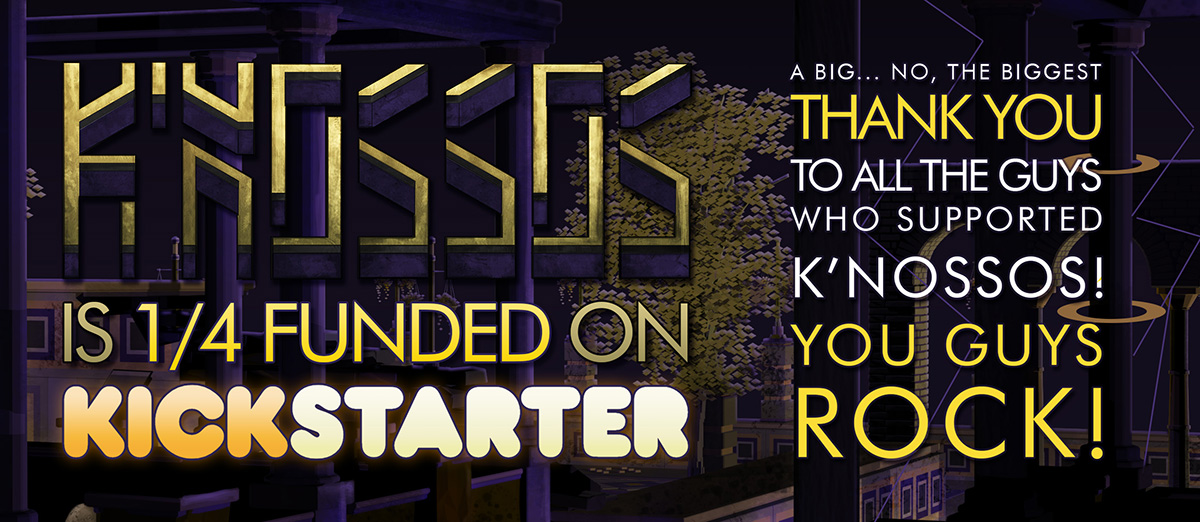 Hello guys! K'NOSSOS just went LIVE on Kickstarter - back the project and help us deliver the game!
K'NOSSOS goes LIVE on KickStarter on October 23rd. Stay tuned for more info!
I really enjoyed this game. I loved the art style, story, gameplay and naration. The game reminds me of Paradigm in a way. This is really something truely special and I would definetly recommend this to anyone who wants something new to play. I'm definetly goint to be playing more either in my own time or in a video.
Thank you so very much for the comment and we're very happy that you liked K'NOSSOS that much! We've invested plenty of enthusiasm, love and hard work over the past two years to make this demo as good and as polished as possible and it's great that it doesn't go by unnoticed :)

I hope more people can see and experience this amazing game
Well, it's guys like you that are making it happen <3 Like I said in the YT, I loved watching someone else play it - you can imagine how biased I am after countless test runs I made :) We will definitely make those texts stay longer on screen, that I can already promise you...
I keep getting "the setup files are corrupted. please obtain a new copy of the program." I've downloaded a few times to no avail. Anything I can do on my end?

There was indeed something wrong with the setup file yesterday, we have since re-uploaded it. You can try downloading it directly from our site (itch.io download links to it anyway), I have just downloaded it and it works. File size is supposed to be 802Mb so if you see it when starting the download, you're all good.